Montrose Minibus Hire
In case you are searching for a local company that will provide an affordable and comfortable minibus hire in Montrose, we can provide some assistance in searching the ideal minibus that will suit your needs. Scottish Blue ® Minibus Hire is highly committed in providing minibuses with various seating capacities. Our armada of vehicles are routinely serviced by a well-experienced and authorised technician on-site, and we make it a point to satisfy the demands of our customers. We have the ability to address all your needs; be it team building, seminar or corporate events, family outings and airport transfer. We also have the capacity to cater different occasions such as funerals, weddings, anniversaries and birthday parties. Our customer finds our service as convenient and hassle-free.
Why You Need our Montrose Minibus Hire Services
One of the priorities of Scottish Blue ® Minibus Hire is to provide a transportation service that is fitting and comfortable. The large selection of minibuses for hire in Montrose will ensure that you will find the minibus that is suitable and can accommodate your group. We highly recommend our potential client to contact our department if they have any concern or things they want to know about our minibus hire services in Montrose.
We have a group of well-trained customer service assistant that will guide you in making a smart choice. They have gone through a comprehensive seminar that allows them to recommend the Montrose Minibus Hire that you need. Our customer support will provide detailed information on a suitable minibus and tell you why it is suitable for your needs. You should also not worry about the rate. They will do their best to work around your budget and will provide itemised costs and some recommended alternatives.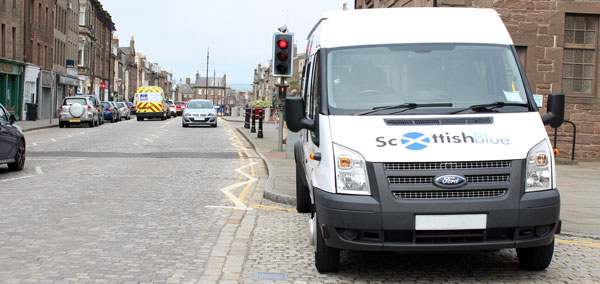 We are dedicated in attending to all your needs for the date of your arrival up to the date that you reached your preferred location. We are also constantly on standby in the event that you will require further assistance. Scottish Blue ® Minibus Hire will do anything that is possible and within our best ability to guarantee that we will fulfil the goal of our customers and satisfy them with our Montrose minibus hire services.
Our selection of minibuses in Montrose includes 8-seater capacity up to 16-seater capacity. Our variety of minibuses allows you to select a vehicle depending on your requirements and your needs. To make it more convenient for you, we allow online reservations. We make it a point to invest on our customer support group that has proved to be a critical part of our business. At the end of your travel, we always love to hear good stories from our customers.
Why book with us?
Local, Experienced and Licensed Drivers
Clean and highly maintained minibuses
Minibuses with Wheelchair Access
Airport Transfers from Montrose and across Scotland
Phone and Online customer support
Easy Minibus Hire Online Quote
Affordable Prices for a Premium Service