Carnoustie Minibus Hire
Here at Scottish Blue ® Minibus Hire, we offer a wide range of minibus hire services in Carnoustie, with up to 16 passenger seated minibuses. We take pride in providing high-quality service at affordable rates as we understand that the rent-a-car expense line for your trip is the last thing that you want to throw a pile of money for.
We have a team of incredibly uniformed, professional and friendly drivers who have years of experience in this particular field of expertise and understand the industry inside and out.
Furthermore, a lot of our minibuses for hire in Carnoustie are accessible for people with disabilities in wheelchairs and can carry up to 6 seated passengers as well as two users of wheelchairs at any given time. The access to the minibus is also incredibly easy because we've equipped them with electrical lifts and ramps which are state of the art.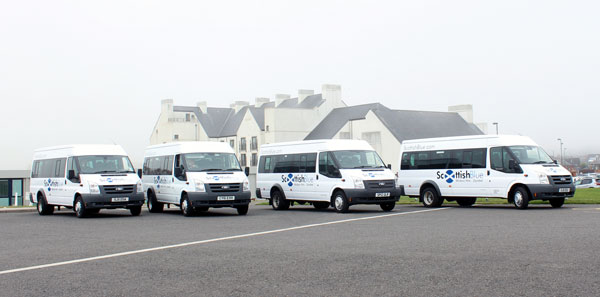 You can take advantage of our Carnoustie minibus hire services for a wide range of different purposes for both pleasure and business. We have specially adapted 8 seat minibuses which are also specifically designated to carry significant quantities of luggage. They are perfect for golf tour parties as well as for challenging airport transfers. Our vehicles are thoroughly maintained in order to adhere to the highest possible standards for the safety of both passengers and driver. We have our own mechanics that are going to work on-site in order to ensure that each and every Carnoustie minibus for hire is fit for travelling at any given time.
It's safe to say that if you are looking for minibus hire services in Carnoustie, Scottish Blue ® is likely to be the best choice out there; you can also take a look at our services on our website if you need any further ideas or information about the services that we have to offer.
Why book with us?
Dedicated Drivers with Years of Experience
A High Standard of Safety and Maintenance
Accessible to Wheelchairs using Electrical Lifts
Suitable for Airport Transfers with large amounts of luggage
Operators available over the Phone and Online
Get a Quote and Book Online
Affordable Prices for a Premium Service